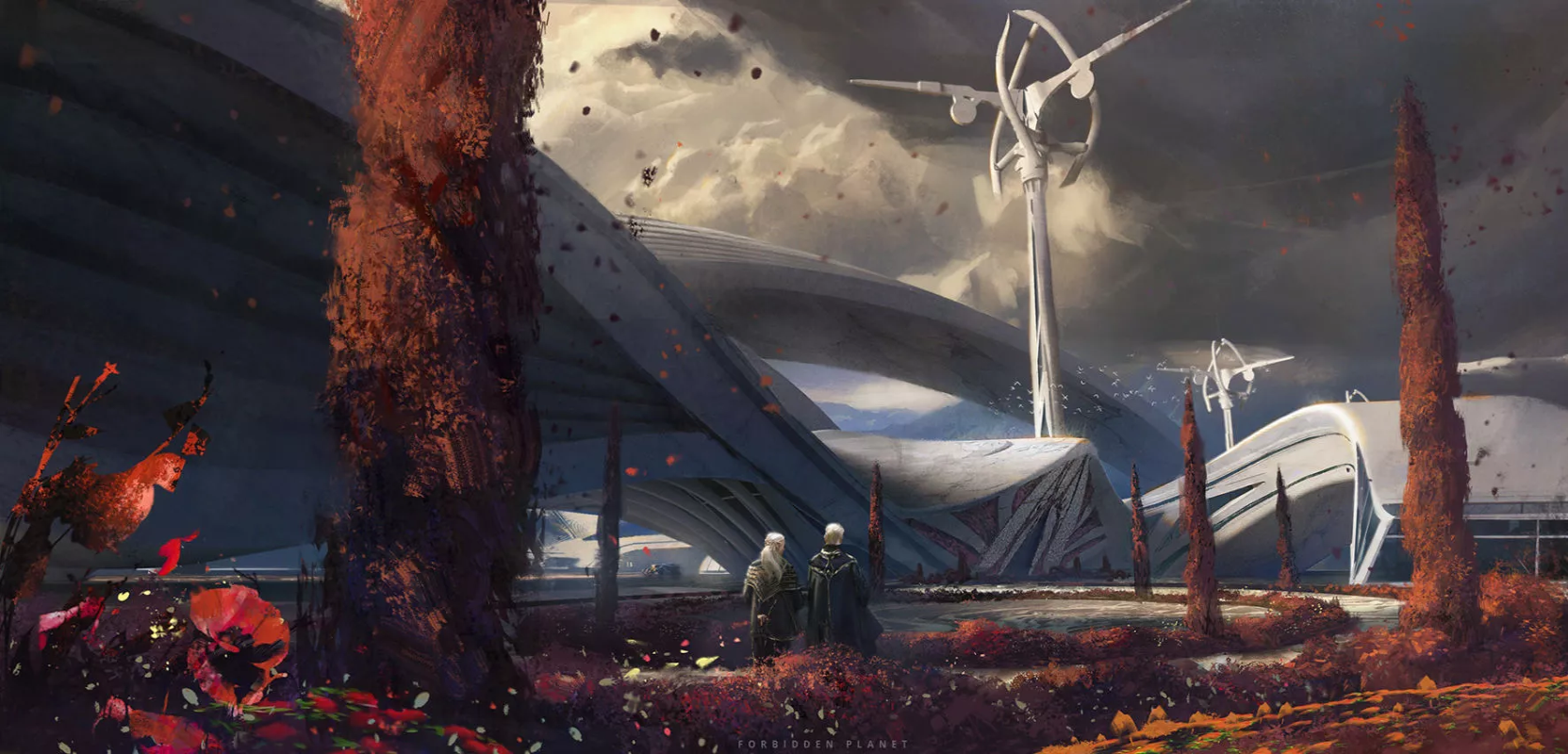 Student Artwork by Krist Miha
About
Syn Studio is an art school in Montreal specializing in teaching concept art and illustration for the entertainment industry. Since 2007, we've been helping amateur and professional artists take their art to the next level through our 10-week drawing, painting, concept art and illustration classes as well as our Full Time Programs.
We are now offering online art classes to help aspiring artists from around the world in their journey towards achieving artistic mastery.
Syn Studio was ranked the number 1 school worldwide for Concept Art and Illustration by The Rookies in 2020.
Programs
At Syn Studio, we firmly believe that:
Great artists are not born, they are made!
The process of forging an industry-ready artist does not happen overnight. Our industry focused Full Time Programs are designed to help students strengthen their concept art skills and achieve artistic mastery.
Art Classes
At Syn Studio, the year is broken into four terms.
Each term lasts 10 weeks.
We believe that a strong foundation in art fundamentals is essential for artists to succeed in concept art and illustration. We offer a variety of drawing, painting, and concept art classes, both online and onsite, for students of all levels.
Classes are conveniently scheduled throughout the week, including on evenings and weekends for those on the East coast of the Americas. If you miss an online class, no worries, you will still have access to a high quality video recording and will get personalized feedback from your instructor.
Click here to view the onsite art classes. To get a complete list, more information, and to register for any of our online art classes, click on one of the course groupings below:
Or visit our art classes page for the full list.
Our alumni currently work in top companies such as
Student
Showcase
What do our students have to say about the school?
"I've taken classes over the years and enjoyed them a lot, particularly because of the variety they have to offer. A big takeaway for me was the motivation of being around talented artists and teachers. This combined with a professional level education has pushed me farther as an artist and taught me what I needed to know to prepare for the industry. I would definitely recommend Syn Studio to anyone seeking to make it as a professional artist or to anyone interested in art."

Concept Artist, Eidos

"The time I spent at Syn Studio has really changed my life [..] I am working as a conceptual designer for exhibitions of National Geographic, Disney and Hasbro's Transformers for Latin America. [...] It was amazing to learn from teachers with so much experience. Thanks to that, I learned the tools that allowed me to reach the next level in my career. "

3d Animator/Digital Sculptor

"I was looking for programs in Canada for concept art [...] and found that Syn Studio has a Diploma program which is a good deal for international students like me [..] During my studies, I have met talented people who are dedicated to concept art such as my classmates, and also teachers who work hard as concept artists in the industry. I loved studying and talking with them about art and ideas in class and during events like SSGM which the school offered for free to diploma students. "

Concept Artist, Eidos Montreal

"[Syn Studio] seemed like the ideal place to improve my skills over a short, intensive period of time. Over the course of the program we learned from some of the best artists in the industry [..]. During our studies we were exposed to different techniques and approaches, while being allowed the freedom to specialise and explore the things that interested us the most [..]. I am currently working as a concept artist in a Montréal based animation studio (Digital Dimension). This has been made possible thanks to the Diploma program and I'm grateful for all the feedback, support and hard work of the amazing team at Syn Studio."

Concept Artist, Digital Dimension

"[Syn Studio] seemed like the ideal gateway to enter the industry. Being located in Montreal, it opens up abundant opportunities for students (especially for international students who come from countries which have a lack of concept-art resources, both academic and professional). I made some great friends (classmates and teachers alike) there, some of whom are my colleagues right now. It provided us with a great learning environment, where everyone was pushing each other to work better [...] I never expected to get hired so soon after our graduation, and I cannot thank Syn Studio enough for that."

Concept Artist, Ubisoft Montreal

"The staff at Syn Studio were extremely friendly and helped me to select the appropriate courses. All classes had in common the great level of competence of the teachers, their humility as well as excellent human and relational qualities. The Syn Studio experience [..] allowed me to create beautiful friendships. These few months have allowed me to progress greatly, and to finish convincing myself to pursue a career in this industry!"

Freelance Concept Artist & Illustrator

"I chose Syn Studio mostly because of the location.[..] During my year and a half at Syn, my art has improved tremendously and the connections I made got me my first job as a concept artist. The teachers are all industry professionals and the relatively small size of the class means you always get plenty of feedback. What made the difference for me, though, were the friendships I made, and how being surrounded by focused and passionate people pushes you to do better all the time. The Gala at the end of the program is where you get to show your artwork to recruiters and it's what ultimately led to my job at Square Enix."

Junior Concept Artist, Square Enix

"Syn Studio was one of the few schools in the world that have a full time diploma program for concept art, apart from that the tuition is pretty affordable in comparison to the other similar schools [..]. I had a brilliant 18 months at Syn, I don't think I have ever accumulated so much knowledge in such a small amount of time [..]. Syn Studio organised an amazing gala at the end of the 18 month course and invites top industry recruiters, concept artist and art directors to showcase your art to, and they also send all our portfolios to the biggest companies in Montreal. My artwork was noticed by the team at Eidos Montreal all due to the efforts of Syn Studio, where I currently work as a Concept Artist."

Concept Artist, Eidos Montreal